Varieties of English through the world - Variantes de Inglês no mundo
| Australian English | |
| --- | --- |
Australian and New Zealand English
Australian and New Zealand English are very similar in vocabulary and accents, due to their shared history and geographical proximity. Both include words taken from the hundreds of languages that existed in these countries before the time of the European settlers. However, the differences between the two spoken versions is obvious to people from either country, if not to a casual observer from a thirdy country (as with Canadian and US English). The vocabulary used in each country also exhibits some marked differences.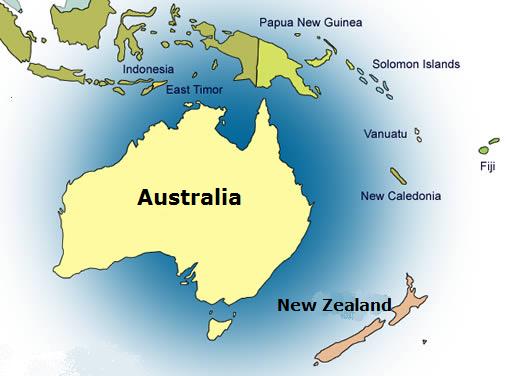 Australian English (AusE)
Brief History
Australian English began to diverge from British English soon after the foundation of the colony of New South Wales (NSW) in 1788. The settlement was intended mainly as a penal colony. The british convicts* sent to Australia were mostly from large English cities, such as Cockneys**. Amongst the first immigrants there were also many free settlers, military personnel and administrators and their families. In 1827, Peter Cunningham, in his book Two Years in New South Wales, reported that native-born white Australians spoke with a distinctive accent and vocabulary, albeit with a strong Cockney influence. The transportation of convicts to Australian colonies ended in 1868, but immigration of free settlers from Britan continued unabated.
The first Australian gold rushes in the 1850s resulted in a much larger wave of immigration that also had a significant influence on Australian English. At the time, Britain and Ireland were experiencing major economic hardship and about two per cent of their combined population emigrated to NSW and the Colony of Victoria*** during the 1850s. At the same time, large numbers of people who spoke English as a second language were also arriving.
| | |
| --- | --- |
| Small gold minehead without shelter and six miners, Gulgong, ca. 1875, (by AACP). | |
The "Americanisation"of Australian English 'ÄĒ signified by the borrowing of words, spellings, terms and usages from North American English 'ÄĒ began during the gold rushes and was accelerated by a massive influx of United States military personnel during World War II. Since the 1950s, there has been an increasing availability and importation of mass media content written in US English, such as books and magazines, television programs, computer softwares and the world wide web; this has also had an effect. As a result Australians use many British and american words interchangeably, such as pants/trousers and lift/elevator.
* Convict = 1) A person found or declared guilty of an offense or crime. 2) A person serving a sentence of imprisonment.
**Cockneys = Natives of the East End of London (read the firts table below).
*** Victoria = located in the southeastern corner of Austalia, nowadays, Victoria is a state.
Curiosity - Cockney Dialect
Cockney (and its Rhyming Slang) is an interesting dialect of English, the street talking, spoken in London's east end. The Rhyming Slang refers to a word by referring to two things, the last of which rhymes with what is being referred to. For examples, money is "bees and honey," gloves is "turtle doves," suit is "whistle and flute" and trouble is "Barney Rubble." Even more confusing, sometimes the second word (which rhymes with the word being referred to) is omitted, so that money is called just "bees."
Read more about Cockney Rhyming Slang in http://www.cockneyrhymingslang.co.uk/cockney_rhyming_slang
Vocabulary and Spelling
Australian English generally follows British English in vocabulary and spelling, although many North American words are used. It also has many words that some consider unique to the language. Perhaps one of the best known is outback, meaning a remote, sparsely populated area (thought, this term have been widely used in many English-speaking countries).

Another word is billabong, meaning a dead-end channel extending from the main stream of a river, a streambed filled with water only in the rainy season or a stagnant pool or backwater.

                  a billlabong
Many words used frequently by Australians are, or were, also used in all or part of England, with variations in meaning. For example:
creek: in Australia, as in North America, means a stream or small river, whereas in the United Kingdom it means a small watercourse flowing into the sea or a small bay;
| | |
| --- | --- |
| | |
| a creek, in the Australian sense | a creek, in the British sense |
paddock: in Australia means field, whereas in the UK it means a small enclosure for livestock;
bush or scrub: in Australia, as in North America, means a wooded area, whereas in England they are commonly used only in proper names (such as Shepherd's Bush and Wormwood Scrubs).
Curiosity - The influence of Aboriginal languages
Some elements of Aboriginal languages have been adopted by Australian English 'Äď mainly as names for places, flora and fauna (for example, dingo, an Australian native wild dog). Beyond that, little has been adopted into the wider language, except for some localised terms and slang. An example is the word bung, meaning broken or pretending to be hurt. A failed piece of equipment may be described as having bunged up or as "on the bung" or "gone bung". A person pretending to be hurt is said to be "bunging it on". A hurt person could say, "I've got a bung knee".
Now, check the following table containing more vocabulary differences between AusE an BRe:
| Australian English | British English | translation into Portuguese |
| --- | --- | --- |
| this arvo | - this afternoon | esta tarde |
| footpath | - pavement | calçada |
| weekender | - holiday cottage | casa de campo ou de veraneio |
| sheila | - girl | garota, menina |
| lollies | - sweets | doces |
| drongo | - fool | bobo, imbecil |
| paddock | - field | campo |
| Aussie | - Australian | australiano |
| Kiwi | - New Zealander | neozelandês |
| cobber | - mate | parceiro, companheiro |
| dinkum | - honest | honesto |
| shanty | - pub | bar |
| chromo | - prositute | prostituta |
| broke for | - in need of | precisando de |
| fed with | - tired of | cansado de |
| booze | - beer | cerveja |
| evo | - evening | noite |
| Down Under | - Australia | Austr√°lia |
[Tradução do texto acima:]
Inglês Australiano e Neozelandês
| | |
| --- | --- |
| O Ingl√™s Australiano e o Ingl√™s Neozeland√™s s√£o bastante semelhantes em vocabul√°rio e sotaques, devido a suas hist√≥rias em comum e sua proximidade geogr√°fica. Ambos incluem palavras tomadas das centenas de l√≠nguas que existiam nestes pa√≠ses antes da era dos colonizadores europeus. No entanto, as diferen√ßas entre as duas vers√Ķes faladas s√£o √≥bvias para os povos de cada pa√≠s, mas n√£o para um observador casual de um terceiro pa√≠s (√† semelhan√ßa do que ocorre com o ingl√™s do Canad√° e o dos Estados Unidos). O vocabul√°rio utilizado em cada pa√≠s tamb√©m mostra algumas diferen√ßas marcantes. | |
Inglês Australiano
Breve História
O ingl√™s australiano come√ßou a divergir do ingl√™s brit√Ęnico logo ap√≥s a funda√ß√£o da col√īnia de Nova Gales do Sul, em 1778. A coloniza√ß√£o tinha a principal inten√ß√£o de estabelecer um col√īnia penal. Os condenados brit√Ęnicos enviados para a Austr√°lia eram, em sua maioria, provindos de grandes cidades, como os cockneys. Entre os primeiros imigrantes havia tamb√©m muitos colonizadores independentes, grupos militares e administradores e suas fam√≠lias. Em 1827, Peter Cunningham, em seu livro Two Years in New South Wales (Dois Anos em Nova Gales do Sul, numa tradu√ß√£o literal), relatou que australianos brancos nativos falavam com sotaque e vocabul√°rios particulares, apesar de haver uma forte influ√™ncia cockney. O tr√°fego de condenados para a col√īnia australiana durou at√° 1868, mas a imigra√ß√£o de colonizadores independentes vindos da Gr√£-Bretanha continuou com a mesma intensidade.
A primeira corrida do ouro australiana, na d√©cada de 1850 resultou em uma onda de imigra√ß√£o muito maior, que tamb√©m teve influ√™ncia significante no ingl√™s australiano. Nesta √©poca, Gr√£-Bretanha e Irlanda passavam por uma significativa crise econ√īmica, e cerca de 2% de suas popula√ß√Ķes juntas emigraram para Nova Gales do Sul e para a Col√īnia de Vit√≥ria durante a d√©cada de 1850. Ao mesmo tempo, tamb√©m chegava um grande n√ļmero de pessoas que falavam Ingl√™s como segunda l√≠ngua.
A "americaniza√ß√£o" do ingl√™s australiano 'ÄĒ representada pelo empr√©stimo de palavras, ortografias, termos e usos do ingl√™s norte-americano 'ÄĒ originou-se durante as corridas do ouro e aceleraram-se devido ao influxo massivo de grupos militares dos Estados Unidos durante a 2¬™ Guerra Mundial. Durante a d√©cada de 1950, ocorreu uma crescente disponibilidade e importa√ß√£o de conte√ļdos de meios de comunica√ß√£o em massa escritos em ingl√™s norte-americano, como livros e revistas, programas de televis√£o, softwares de computador e a rede mundial. Isso tamb√©m teve um efeito: como resultado, os Australianos usam muitas palavras do ingl√™s brit√Ęnico e do americano de maneira permut√°vel, como por exemplo, pants/trousers (cal√ßas) e lift/elevator (elevador).
Vocabul√°rio e Ortografia
O ingl√™s australiano geralmente segue o ingl√™s brit√Ęnico em termos de vocabul√°rio e ortografia, embora muitas palavras norte-americanas sejam empregadas. Exitem tamb√©m palavras consideradas exclusivas da l√≠ngua. Talvez uma das mais conhecidas seja outback, que significa uma √°rea remota e pouco povoada (embora este termo venha sendo usado amplamente em muitos pa√≠ses falantes de ingl√™s).
Outra palavra é billabong, que significa um canal interrompido que aflui da parte principal de um rio; um lago formado com água da chuva somente durante a temporada de chuva ou uma poça estagnada ou água parada.
Muitas palavras frequentemente utilizadas por australianos s√£o, ou eram, tamb√©m utilizadas em toda ou em parte da Inglaterra, com vari√ß√Ķes de significado. Por exemplo:
creek: na Austrália, assim como na América do Norte, significa um riacho ou córrego, ao passo que no Reino Unido, significa um pequeno canal que desemboca no mar ou uma enseada.
paddock: na Austrália significa um pedaço de terra, enquanto no Reino Unido, significa um pequeno terreno cercado para gados.
bush ou scrub: na Austrália, assim como na América do Norte, significam uma área de floresta, ao passo que na Inglaterra, elas são comumente usadas somente em nomes próprios (como por exemplo Shepherd's Bush e Wormwood Scrubs).